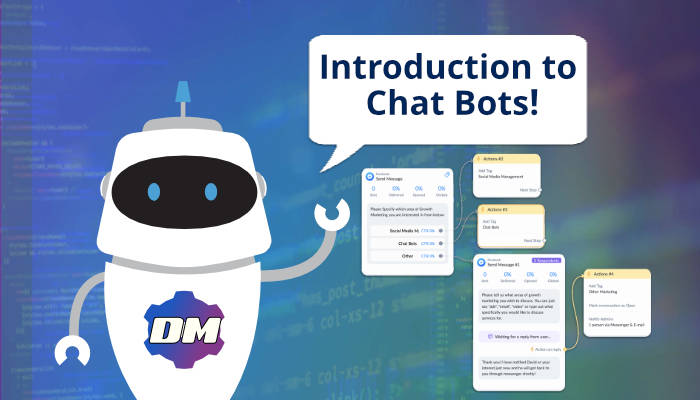 What are Chat Bots?
Intro to Chatbots & Conversational Marketing
There are a few definitions depending on how technical you get. As far back as in 1966 there was work conducted using artificial intelligence (AI) that could be considered a chatbot as it mimicked human behavior for psychotherapy. But in today's world, a simpler definition may be "Using a chat feature with conditional rules and AI to interact with customers, responding to their input and responses to provide relevant value"
As a business, it doesn't get simpler than you providing value to a customer in exchange for money. That value could be a product or service and we have gone from providing that strictly from brick and mortar store fronts, to online sales, and it continues to expand. In the digital space there are multiple channels to engage with your customers and chatbots are just one more to strongly consider.
Chatbots really gained traction when David Marcus from Facebook introduced a snazzy e-commerce solution during a keynote presentation in 2016. Big companies spend a ton on marketing and they are driven by ROI and proven metrics. So it has taken a bit for them to catch on and really get on board.
Now however, it is 2020 and the data is in, and Chatbots are where it's at. Open rates ranging from 70-80% and a click-through rate from 15-60% which are far beyond traditional channel results.
No it is not replacing email marketing, landing pages and funnels and the like. However, it is a very strong tool to augment those and give online businesses a powerful means to engage customers where they spend their time the most.
"Messaging apps have 20% more active monthly users than social networks."

businessinsider.com
Why should I use a Chatbot?
We already know the power if advertising on Facebook due to the immense amount of time people spend there and the ability to target specific audiences through their profiles and interactions. Now think about how powerful it is if your ad can open up a messenger app where you can further qualify and segment that interested party through a chat conversation.
By using a chat bot to take the customer down the sales funnel, you are able to provide more relevant value to them in a setting where they are comfortable so you are using personalization and building trust.
Along they way, you can connect this data to your other traditional tools like email marketing and CRM but you are gaining key insight in to their wants and needs to better cater your offering making it an easier process to sell them an appropriate and relevant solution.
How do I use a Chatbot?
So now that you understand the what and they why, let's get in to the how for just a bit. There are many tools on the market that focus on the popular chat solutions such as Slack, Telegram, Discord and of course Facebook. For us and our customers, we focus primarily on Facebook messenger as it is by far the largest in audience and market penetration and because they also own Instagram and Whatsapp.
We create various tools that take advantage of Flows to interact with the customer, gain insight on their needs, segment them through their responses applying tags for reference, and providing them value through direct sales, lead magnets, linking them to an area of our site, abandoned cart engagement, and many others. The key to all of this however, it the Flow. Here is a very simple example.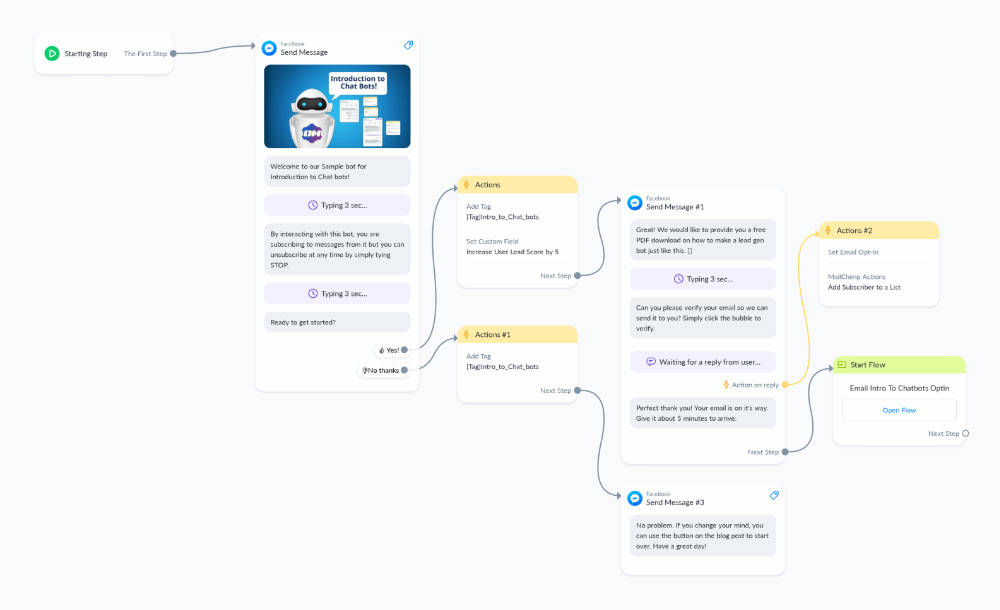 This uses a chat feature on your site to allow the customer to open a conversation, provide some basic feedback on which area of products or services they would like more info on, directs them along while also offering a talk to human option where the bot can immediately alert an admin to jump right in an pick up the conversation.
That is just one method however. We can also use the bots through QR codes, Near Field Communication (NFC), Facebook ads with JSON, or simple links which will open the chat window and start conversation.
Once engaged, you can use chatbots to create a variety of personalized customer interactions using automation and AI to help you capture leads, and convert them in to customers and eventually advocates.
You are not limited to chat though, you can also have users opt in with email and phone numbers to expand to alternate channels such as SMS and email. With so much flexibility, chat bots should certainly be part of your marketing strategy discussions.
Try it yourself:
We have created a simple Chatbot example that you can try first hand. Click the button below which will open up messenger. After a few short prompts, you will be provided a Free PDF that explains how to create a Chatbot lead magnet.
If you are ready for a deeper discussion, contact us at any time. And let's set up a discovery call where we can determine how best to use chatbots to grow your business.
---
All Categories
---
All Tags
---
By Month